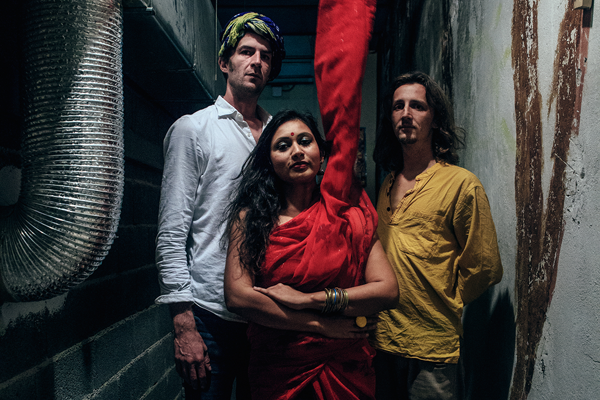 This musical journey began in 2011.
Started by french drummer/producer Paul Schneiter and North Indian classical vocalist Tritha Sinha, the band played its maiden concert in New Delhi in January 2012. The band attained musical maturity when Mathias Durand, a flamboyant guitarist from Paris, influenced by Western and Indian classical music, joined the band in 2013.

The band has ever since been pushing musical boundaries, playing an ambitious mix of 1970s psychedelic rock blended with traditional Indian classical and folk influences.
In a troubled world of conflict, confusion and tragedies, the lyrics are excavations out of Indian scriptures or are written by Tritha in regional Indian languages like Hindi, Sanskrit and Bengali. They address issues such as the environment, women's liberation, corruption and the unending journey towards discovery of self and divinity.
Following the release of the band's first studio opus PaGLi in 2014, Tritha Electric embarked on an 18-month tour which saw the band perform over 100 shows across three continents.
Tritha Electric was invited to perform a showcase at the prestigious WOMEX in Budapest last year (2015).
Download Tritha Electric EPK (.pdf)
Live Teaser
Tarana (live in Assam)
Live Electric
Live Acoustic